Minimum browser requirements Internet Explorer 8, FireFox 4.0, Chrome, or Safari.
Unknown 0.0 is currently not supported.
Learn More...
Achieve workplace health and safety success with tools, guidance and expertise delivered by UL
Workplace health and safety doesn't cost. It pays. Through transforming your workplace into a culture of safety where learning is valued above training, your organization can achieve: increased productivity, a better informed and prepared workforce and fewer accidents and injuries. Trust UL, a global leader in safety with a history of keeping people safe for over 100 years.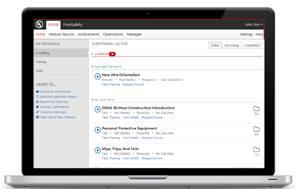 Messages
We're pleased to announce the latest release, PureSafety 7.4 is now available! Here are the top enhancements that are included with this new release.
Filter Reports on "Hidden" Titles.

Run more targeted reports by filtering on any training titles, including old titles you have marked as "Hidden" so that they won't be assigned.

Update your HR system.

Match training requirements defined in your HR system (HRIS) with training managed in PureSafety via a customizable field that you can include in an export of training data. Having that link means that training updates - such as all training completed last month - can be uploaded and reflected in your HRIS.

New IMS Reports.

New reports in our Incident Management System (IMS) module allow you to get quick access to data about your submissions based on the custom fields you have configured as well as to counts of observations submitted compared to the targets you have set for your locations.

Customize your scheduled report subject lines – by language

.

You have the ability to customize email subject lines for scheduled reports to help your users differentiate between the various reports they receive on a regular basis. The subject line is defined by language, so your recipient can see the subject in their preferred language.
For comprehensive release notes visit: http://ul.custhelp.com/
---